I will be exhibiting at the following Arts and Crafts shows. Drop by and say hello, I am adding new designs all the time.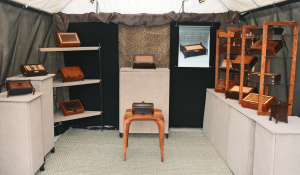 In order to show my work in the best possible venue, I apply only to juried shows.
A juried show is where a panel of qualified jurors sit in a darkened room viewing digital images presented by the show applicants are awarded to the high scorers.
I have been fortunate to participate in over 300 shows.
I prefer to sell my work in this manner because I get a chance to explain the design process as it relates to my love of the medium.
Hopefully I will have a chance to see you walk into my booth someday so check my schedule frequently.