Rare and Exotic Wood Pens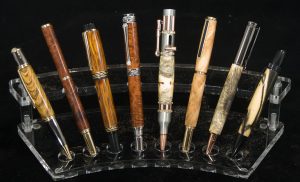 Fine writing instruments handcrafted by Award winning Florida artisan Donald R. Boudreau. My pens are created using some of the more unique exotic hardwoods from all over the world. We love creating wood pens that are as distinctive and interesting as the customers who purchase them. Whether it's a pen made from 50,000-year-old ancient kauri wood from New Zealand, or one crafted from Bethlehem olive wood from the Holy Land, each pen tells a unique story that is sure to be a great conversation piece.
The pens shown on this website are the actual pen you will receive.
If you would like a pen created just for you, or as a gift, just let me know.
Don Boudreau
954.243.4100
NEW  WOODS: I just acquired some Ancient Kauri  reclaimed from a peat bog off of New Zealand's North Island. Ancient Kauri is a unique material with an amazing beauty and intriguing history. It is commonly regarded as the oldest wood available in the world. Ancient Kauri has been buried underground in New Zealand for approximately 50,000 years. Look for some of this amazing wood in some of my pens. To see how how this wood is harvested, Click Here
Showing 1–24 of 53 results