Keepsake Box
Keepsake Boxes for Men and Women hand crafted in America using exotic and domestic woods.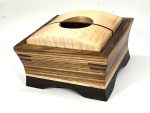 Hand Crafted by an American Artisan. Keepsake Boxes, Using Natures Own Colors. No Stains or Dyes Used in my Award Winning designs.
Click on any thumbnail for a larger detailed view, description, and secure shopping cart. Each box is a one – of – a kind piece and is available on a first come basis. If you see something you like today, buy it now for it may be gone tomorrow.
Showing 1–30 of 52 results